A reliable pool pump is an essential component of any pool circulation system. Our pool pumps category page offers a range of options to ensure that your pool water is circulating correctly, which is critical to maintaining clear and healthy pool water. We've selected only the best pool pumps from top manufacturers like Pentair, Hayward, and Jandy. Our range includes variable-speed, single-speed, and two-speed pool pumps, catering to different pool sizes and budgets. With our pool pumps, you can be confident that your pool is getting the right flow rate and optimal performance.
Super Pump
The Hayward Super Pump series of large-capacity, technologically advanced pool pumps blends cost-efficient design with durable construction, setting the standard for excellence and value.
Designed for in ground pools and spas of all types and sizes, the Super Pump features a large see-through strainer, super-size debris basket, and exclusive service-ease design for extra convenience.
Heavy-duty high performance motor with airflow ventilation for quieter, cooler operation.
Exclusive swing-away handle makes strainer cover removal easy – no tools, no loose parts… no clamps.
See-through strainer cover lets you see when basket needs cleaning.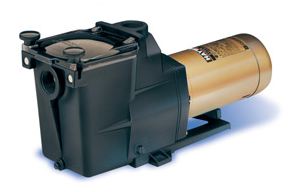 Max-Flo Pool Pump
Designed for inground pools and spas of all types and size this self-priming pool pump combines maximum performance with durable construction. The swing-aside hand and strainer basket make it the ideal choice for both new and existing pool installations.
See-thru strainer cover lets you see when the basket needs cleaning
Load extended ribbing ensures free flowing operation
Heavy-duty, high performance motor for quieter cooler operation
Service-ease design give simple access to all internal parts