Pool Repair
At Aqua King Pool Services, we understand how important it is to have a functional and safe pool and spa. Therefore, we offer comprehensive repair services to keep your pool and spa in top condition. Our team of experienced technicians can handle a range of pool and spa repair issues. This includes pump and filter repairs, heater repairs, plumbing repairs, and more. Most importantly, we use state-of-the-art equipment and the latest techniques to diagnose and repair your pool quickly and effectively.
We know that unexpected pool and spa repairs can be stressful and disruptive to your daily routine. As a result, we aim to provide timely and efficient service to get your pool running again as soon as possible. We'll work with you to create a repair plan that fits your needs and budget, and keep you updated every step of the way.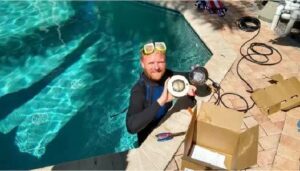 In addition to our repair services, we also offer regular maintenance services to prevent common pool problems before they start. Our team can provide scheduled pool maintenance to keep your equipment running smoothly and prevent costly repairs down the line.
At Aqua King Pool Services, we're committed to providing high-quality service and reliable pool and spa repairs. For instance, we use the best pool equipment from top manufacturers like Jandy and other leading brands. We pride ourselves on our attention to detail and customer satisfaction, and we're always striving to exceed your expectations. Whether you need a minor repair or a major overhaul, we're here to help.
If you're experiencing problems with your swimming pool, equipment, or spa, don't hesitate to contact us today. After that, our team of experts will diagnose the issue and provide a comprehensive repair plan to get your pool and spa back in working order. Contact us today to schedule a pool repair service, and let us help you enjoy your pool and spa worry-free!
Aqua King Pool Services is Rated 4.8️ stars on Google
130+ 5-star reviews speak for themselves