Pool Cleaning
Our company is dedicated to providing affordable pool cleaning services for residential and commercial customers in Miami-Dade, Broward, and Palm Beach Counties. Our team of experienced professionals is equipped with the latest tools and techniques to ensure your pool is sparkling clean and safe for swimming.
We offer a wide range of services to meet your specific needs. Our team can provide routine maintenance services, including regular brushing, skimming and water testing to keep your pool in excellent condition. We also offer one-time deep cleaning services for pools that have been neglected or require a thorough cleaning.
Our team is trained to identify and address common pool problems, such as algae growth, calcium buildup, and debris accumulation. We use high-quality cleaning products that are safe for your pool and the environment.  Additionally, we are always available via phone, text or email to answer your questions.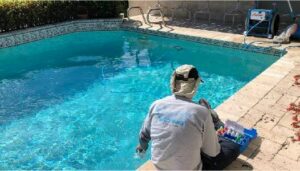 We also offer specialized pool cleaning services, such as tile cleaning, filter cleaning, and acid washing. Our tile cleaning services use gentle but effective methods to remove stains and buildup from your pool tiles, leaving them looking like new. Our filter cleaning services ensure that your pool's filtration system is working properly and effectively removing debris from the water. And our acid washing services can restore your pool's surface to its original condition, removing stains and buildup that cannot be removed through regular cleaning methods.
At Aqua King Pool Services, we take pride in our attention to detail and commitment to customer satisfaction. Our goal is to ensure that your pool is always clean, safe, and ready for swimming. We understand that each pool is unique and requires individualized care, which is why we offer cleaning packages to meet your specific needs and budget.
Our team is licensed and insured, and we use the latest technology and equipment to provide efficient and effective sanitization. We also offer convenient scheduling options to ensure that your pool cleaning services are completed on time and at your convenience.
In addition to our cleaning services, we also offer pool maintenance, repair, and equipment installation services. Whether you need routine maintenance, emergency repairs, or new equipment installed, our team of experts is here to help.
Contact us today to schedule your pool cleaning services and experience the difference that Aqua King Pool Services can make for your pool. With our top-quality services and experienced professionals, you can enjoy a clean and safe swimming pool all year round.
Aqua King Pool Services is Rated 4.8️ stars on Google
130+ 5-star reviews speak for themselves