Pool Equipment Sales & Installation
We know that having reliable and efficient pool equipment is crucial for keeping your pool in good condition and your power bill under control. That's why we offer a variety of new pool equipment sales and installation services including top-quality equipment from top quality brands like Jandy, Hayward, and Pentair.
Our team is licensed and insured, and our experienced technicians are trained to install your new equipment quickly and efficiently. When installing your new equipment, our technicians take the necessary steps to ensure that everything is set up properly. They also make sure to leave your home clean of debris and trash after every installation. Additionally, we provide detailed instructions on how to operate and maintain your new equipment to increase its life.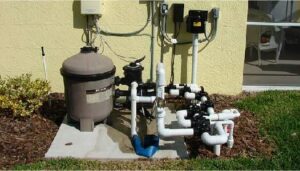 Aside from equipment sales and installation services, we also offer regular maintenance and cleaning services to prevent costly future repairs. Our team can provide scheduled maintenance and cleaning services to help you avoid expensive repairs and keep your pool running efficiently.
At Aqua King Pool Services, we're dedicated to providing our customers with the highest quality pool equipment and installation services. That is why we take pride in our attention to detail and customer satisfaction, always striving to exceed your expectations.
Quit wasting your weekends and contact us today. Whether you need new pool equipment and installation services or for us to repair your old or broken down equipment. Our team of experts is ready to help you select the right equipment for your pool. The will also ensure that it is installed properly and working as per the manufacturer. Let us help you keep your pool running smoothly and efficiently for years to come.
Aqua King Pool Services is Rated 4.8️ stars on Google
130+ 5-star reviews speak for themselves