Davie, FL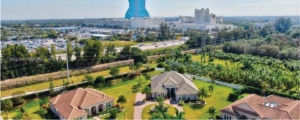 If you're a resident of Davie, FL and looking for professional pool services, Aqua King Pool Services has got you covered. With years of experience in the industry, our team of skilled technicians is dedicated to providing top-notch pool services, including maintenance, repair, cleaning, and leak detection.
We understand that every pool is different and requires specialized attention. That's why we offer customized pool maintenance plans tailored to meet your specific needs and budget. From routine pool cleaning to filter cleaning and equipment inspection, we ensure that your pool is always in top condition.
Our team of experts uses state-of-the-art technology and techniques to identify and repair any pool-related issues. We provide a comprehensive range of pool repair services, including pump repair, heater repair, pool leak detection and repair, and more.
At Aqua King Pool Services, we pride ourselves on providing our customers with high-quality services and exceptional customer service. Our team is available 24/7 to address any pool-related emergencies and answer any questions you may have.
Don't let pool maintenance and repair stress you out. Contact Aqua King Pool Services today and let us take care of all your pool needs. Fill out our contact form or give us a call to schedule your appointment today.
Aqua King Pool Services is Rated 4.8️ stars on Google
130+ 5-star reviews speak for themselves