Pool Remodeling
Seeking pool remodeling services in Miami-Dade or Broward counties? Aqua King Pool Services stands as a beacon of excellence in transforming your backyard into an aquatic oasis. Your pool is not just a feature of your home; it's a personal oasis meant for relaxation and enjoyment under the sunny South Florida sky.
Regrettably, a pool that shows signs of wear and tear can diminish your outdoor experience. But fret not, as Aqua King Pool Services is here to revitalize your pool. Specializing in comprehensive pool remodeling, we are dedicated to elevating your backyard experience with our detailed pool and spa renovations.
Consult with our pool design specialists to discover the extensive options for upgrading your pool.
Trusted Pool and Spa Remodeling Services
Whether your vision involves minor enhancements to your pool or a complete overhaul, Aqua King Pool Services caters to all scales of ambition. From simple updates to complex transformations, our wealth of experience and deep expertise stand ready to bring your vision to fruition.
Engage with us and let's begin the journey of turning your pool remodeling ideas into a tangible reality. We believe in cost-effective solutions, building every pool with personal pride and care as if it were our own.
Pool Resurfacing in South Florida
Over time, it's natural for a pool's surface to deteriorate. Such wear can disrupt the delicate balance of your pool's pH levels, posing potential safety concerns. Aqua King Pool Services is adept at addressing issues such as leaks and pitting, ensuring that your pool resurfacing results in a perfect finish.
Resurfacing is a practical solution, offering a rejuvenated appearance to an aging pool. Reach out to explore the full spectrum of our pool resurfacing services.
Comprehensive Remodeling Services
If a full pool remodel is on your agenda, rest assured that Aqua King Pool Services will provide the necessary guidance and support from design to execution. Ready to transition from the normal to the exceptional? Consider new pool lighting or water features, and let us transform your current pool into the aquatic paradise you deserve.
Customer-Centric Construction Process
At Aqua King Pool Services, we prioritize our clients, adopting a personalized approach to each pool remodeling project. We listen, we understand, and we deliver, leveraging over 20+ years of experience to enhance your pool or spa to meet your exact specifications.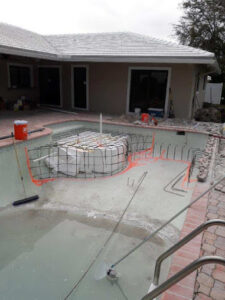 Even if you're merely considering a remodel, we welcome your calls and inquiries. We'll clearly explain the details and costs for updating your pool.
Competitive Pricing for Pool Remodeling in South Florida
Worried about the cost involved in updating your pool and spa? Worry no more. We prioritize cost-effectiveness to make sure the rejuvenation of your pool is attainable. Let's talk about the financials — we're ready to provide a free quote to prove that refreshing your pool is a feasible goal for your family.
Swift and Efficient Pool Remodeling Outcomes
Specifically for families who use their pool often, the idea of a pool remodel might raise concerns about downtime. Aqua King Pool Services pledges to work swiftly and efficiently, minimizing any disruption to your family's leisure time. We coordinate with your schedule, ensuring that our pool remodeling services align with your lifestyle.
South Florida's Destination for Exquisite Pool Remodeling
Aqua King provides a rich variety of custom options for your pool renovation project. Don't settle for less than your ideal vision. We're well-equipped to deliver a fully remodeled pool that not only meets but exceeds your expectations.
Quality Materials from Local Providers
At Aqua King Pool Services, we are dedicated to supporting our local community by buying premium materials from well respected local businesses. We are proud to partner with Florida Stucco and National Pool Tile Group, renowned South Florida companies that share our commitment to excellence. This partnership means that every pool we work on is a high-quality project, using materials from local family owned businesses like ours. Our cooperation with these local suppliers not only brings you affordable high quality materials, but also strengthens our community's economy. Choosing Aqua King means your pool makeover not only brings you joy but also supports the prosperity of our beloved region.
Eco-Friendly and Energy-Efficient Pool Remodeling Solutions
Older pools often fall short in energy efficiency, leading to elevated utility bills. Aqua King Pool Services can introduce modern, energy-saving solutions to your pool, from advanced heating systems to eco-friendly resurfacing materials, reducing both your energy costs and environmental impact.
Ready to enhance your pool? Partner with Aqua King Pool Services, South Florida's respected pool remodelers. Call us today to learn more about how we can elevate your pool to a new standard of luxury and pleasure.
Aqua King Pool Services is Rated 4.8️ stars on Google
130+ 5-star reviews speak for themselves